Continued financial cost is, of course, an important consideration when getting a dog.
MoneySmart.gov.au has an outline of the costs of having a pet per year. This is a good start to knowing how much a dog will cost, but I wanted to share our financial decisions in getting a puppy in a post-COVID world.
Covid triggered a sharp rise in pet ownership in Australia. With extended lockdowns, flexible work-from-home options, and sometimes for mental/emotional support, everyone and their mother and their mother's mother are getting a new pet.
Breeders raised the standard cost of their puppies. From what I've seen, the popular cavoodle designer mix is at around $5.5k-$6k on average. Frenchies are still popular, and the more exotic/rare colours seem to go from $7k-10k. Pomeranians can go from $3k to $6k depending on the breeder, for example.
Shelter adoption costs can vary, but typically are about a few hundred bucks and would've covered vaccines and desexing.
Once I set that amount aside, there are a few initial costs I had to cover. I kept a checklist of all I had to buy and wrote it down on paper old-school style, but here's a digital version of it ;D
Below are rough estimates of how much I spent, just to help give you an idea. 😛
One-time home pet-proofing = $130
Plastic covering for the carpet ($30) – we are renting a carpeted apartment and was worried that Nami won't be able to hold his pee in on the way to his pee pad. I made sure the area from his crate to our patio had plastic covering to be safe from accidents while he is potty training. I'm not a big DIY person so I don't know what they're called, so I bought some surface cover options from Bunnings.
Cable boxes or organisers ($0) – keep cables away to prevent Nami from gnawing on them. IKEA has an affordable option that will set you back $15 per cabled area, but I just upcycled a few boxes so I didn't have to buy any: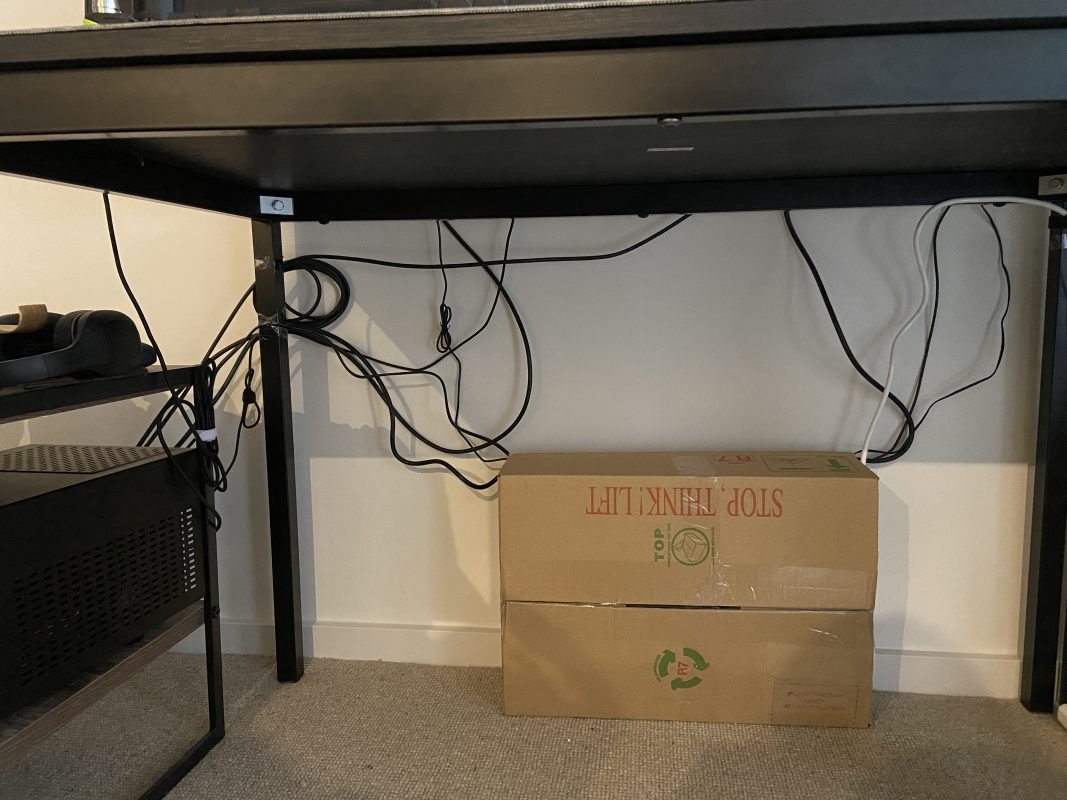 Bucket and brush ($20) – for cleaning the patio and pee grass mat, also bought from Bunnings
Stain remover and deodorizer (Enzymatic cleaner) ($30) – SUPER IMPORTANT! You need to make sure you use an enzymatic cleaner so the urine smell can come off completely. I bought a small bottle for when I bring Nami out to the office or to a friend's house, and another big one for the home.
Washable pee pads ($50) – I'm not a fan of disposable pee pads because of the waste it generates, so I bought 2 sizes of washable pee pads from Pipco Pets. They are GREAT, and I recommend buying a few pieces so you can maybe replace it once a day and do a single wash for the used ones. There are other brands out there, and if you're not pressed for time (i.e. can wait up to 4 weeks for delivery), I recommend finding cheaper ones at AliExpress (they cost less than half the price from an AU-based shop).
Pet Supplies = $150
The crate and the pet bed I bought from Facebook Marketplace. Especially when you have a puppy that's expected to grow larger, you might want to buy a smaller crate secondhand, and then buy a bigger one later.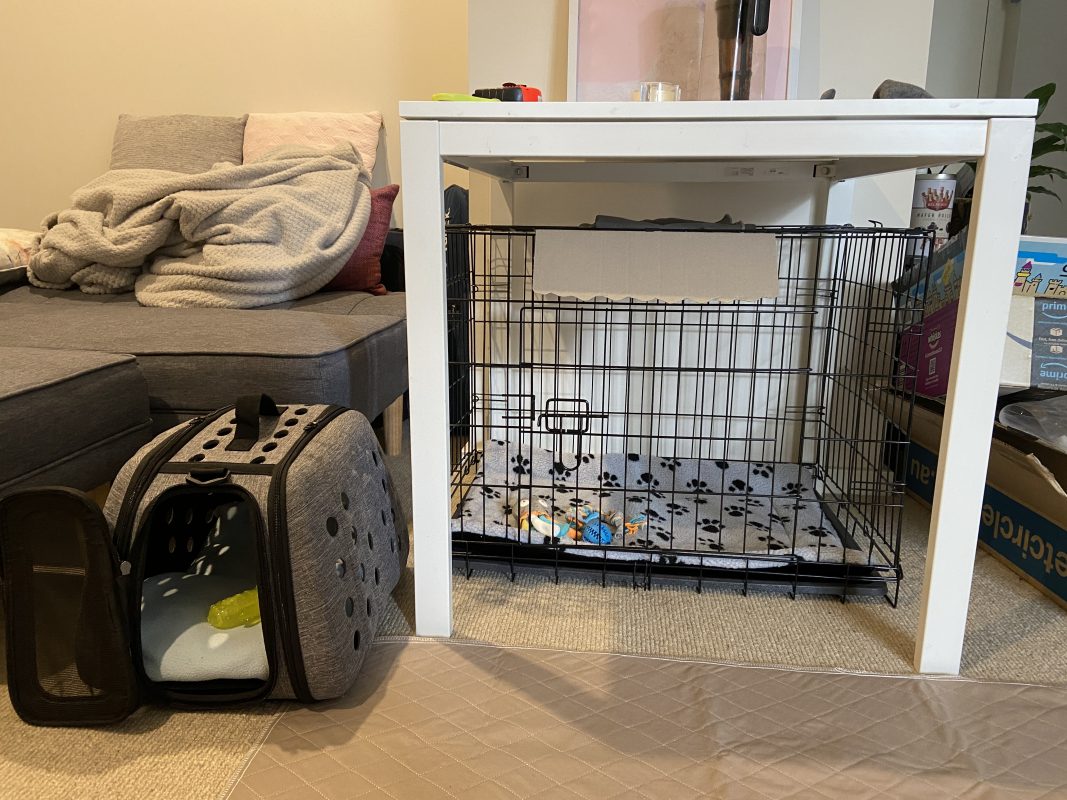 Honestly, for the rest of the supplies, I bought most of it from Kmart because they cover the basics in 1 delivery.
Pet bed – you can buy a few for various parts of the house where your puppy will hang out; for example, 1 for the bedroom, 1 for the living room, etc. This Everyday Cosy Pet Bed from Pet Circle is only $12 and won't break your bank.
Pet crate/kennel – we bought one from Facebook Marketplace. Luckily it fit just right under our IKEA table. 😀
Pet bowl (2x, for food and water)
Grass mat / potty mat ($18 from Kmart) – there's a real-grass option but was so expensive, so I went for the grass mat version. We only had a patio, not a grass backyard, and I used this indoors for the first week before moving it right outside the patio door so it doesn't smell inside :'D
Collar/harness – choose the "puppy" size (Kmart's puppy harness is a good size) because some brands might be too big even if you buy 'small'. For example, this puppy size harness will fit 9-week old Nami (Yorkies are toy breeds): 21cm neck x 25-32cm girth. BUT! Some breeds grow very fast, so don't buy the harnesses where the neck area is NOT adjustable, otherwise you'll have to replace it very quickly. Don't splurge too much in here; as a puppy your dog will grow quickly, and you might need to replace the harness sooner than later.
Leash/lead
Silicone meal mat – we have a carpet flooring, so it was good to cover Nami's eating area. It was a good buy because his water spilled so many times :'D usually because I dropped something on it…
Soap/shampoo/conditioner
Pet Spray – keeps Nami smelling fresh regularly, especially when it's been a while since he bathed. Fidos Puppy Kitten Spray is affordable and the lovely smell lasts a few days.
Pet wipes – Kmart sells 100pcs for $4.50 but wet wipes take 100 years to decompose… You have biodegradable options like: 80sheets/$7.50 from The Green Pet Shop, or Bamboo Bio Wipes for 36sheets/$8, or the pricier DOG Wipes for 80sheets/$12. We wipe Nami's areas after each time he poops and pees, or when he comes inside after a walk outdoors so wipes are essential for me :'D Don't be afraid to buy in bulk if you will use them every day.
Poop bag – buy the compostable bags! They run out pretty quick, so make sure you buy in bulk even before your puppy arrives home. You can have at least 3-4 bags extra stowed away 😀
Poop bag holder
Pet treats – you can use kibble for training, but you can use some extra treats too. These milky sticks are super easy to break apart for puppies. Make sure you read the recommended portion (about 10% of a dog's diet) for special treats.
Pet food – I made the mistake of buying a big bag of what the breeder recommended, as the vet suggested something more premium. If your puppy doesn't come with pet food from the breeder, just buy a smaller size of their current diet so you can decide and change their diet to your preference.
Pet toys – great to buy on sale! Lots of options online, like Pet Circle and Budget Pet Products. DAISO sells some good ones for cheap if you can visit one nearby. Buy a couple but don't splurge too much since you don't know what your puppy's preference is just yet. Nami didn't like rope toys or nylon chews at all; only squeaky toys :')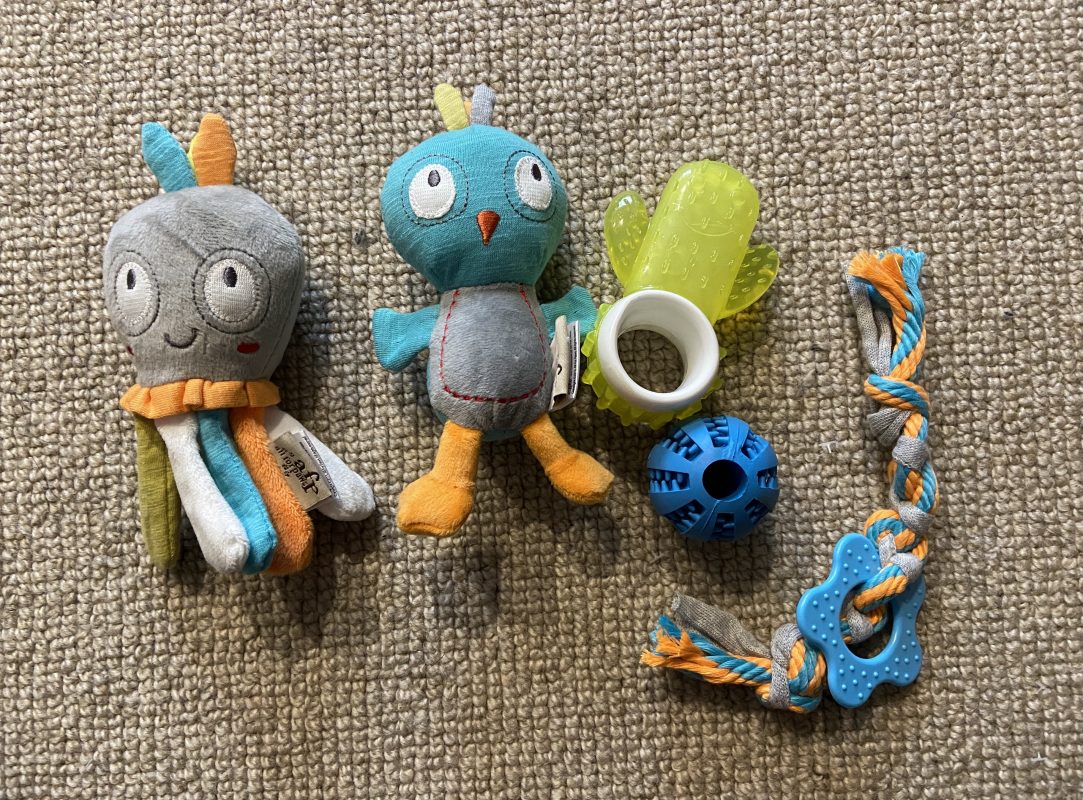 When it comes to toys, sometimes cheaper is also better. Nami likes those strings they use for packaging: I tie it to a table and he pulls them and it keeps him busy. But he is too small for the bigger rope toys and don't play with them at all. He also LOVES the cat balls with a bell inside. So don't narrow yourself to the toys advertised only for dogs.
Pet Carrier = $60
In Victoria, dogs are only allowed on Trams and Trains if they are in a pet carrier. I use the public transport to go to the vet or the office, so a good carrier was important to have before Nami arrived. It is also useful to bring him around while he hasn't finished his vaccinations yet.
It is incredibly important to make a puppy get used to new smells, sights, places, and sounds in the recommended 8-16 weeks. I didn't want to wait until Nami's last vaccine shot before I bring him out, otherwise I would miss those important weeks of development and he will make more of a fuss or be easily scared of unfamiliar things.
I bought this Foldable Pet Carrier from Rufus and Coco. I also like this lovely leather one from Modern Pets. Maxbone has a beautiful city carrier at a premium price point, but I wasn't sure if this will be allowed in trains or trams.
If you have a long lead time before your pet arrives (i.e. if you can wait 4 weeks), you can shop from AliExpress. Cheaper with more options. I've seen stock from China being resold by Aussie shops with a steep profit margin, so if you're on a tight budget, AliExpress is always a great option.
If you have a car, you might also want to buy one of those doggy car seats.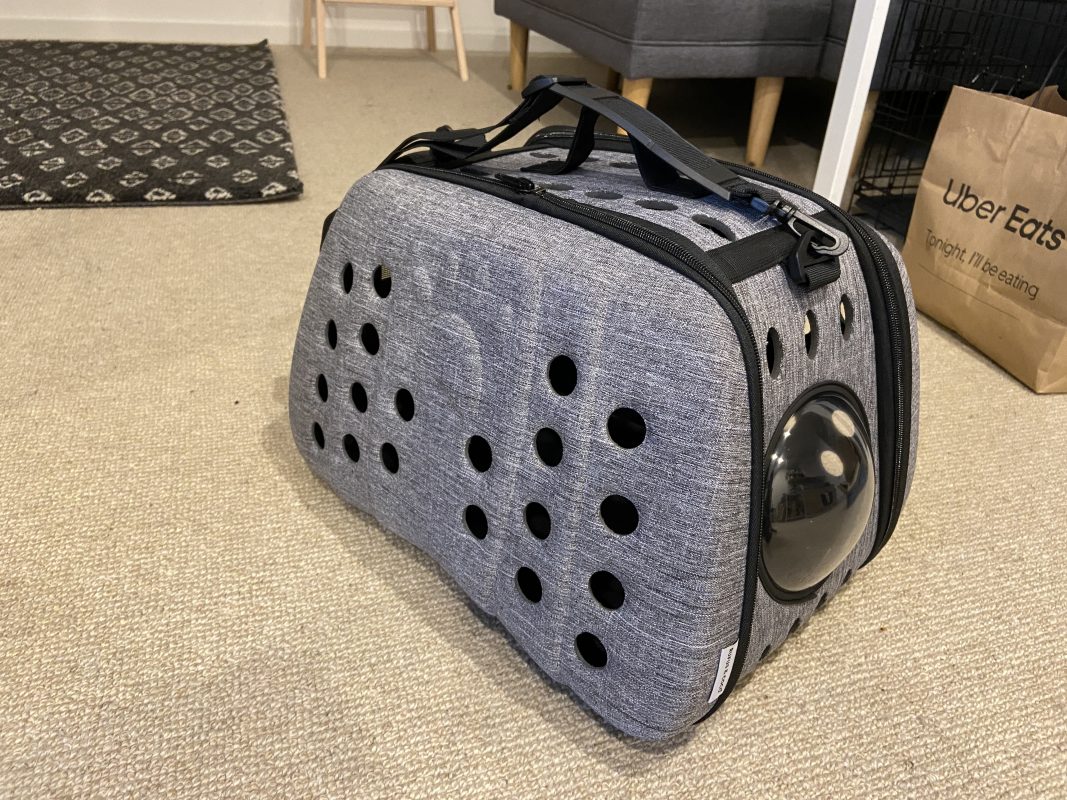 Pet Insurance and/or Vet Subscription = $120/month
Everyone has an opinion about insurance, but since Nami is our first puppy in Australia, you just never know what will go wrong. The thing is, Pet Insurance works differently from private Health Insurance (and as a work-visa holder, I'm required to have private health insurance). Pet Insurance typically only cover injury and illness, NOT general vet health check visits or vaccinations, or desexing, or pet dental. It is also not regulated so the premiums and prices get quite costly.
Money Smart lists pet insurance cost from $20-$60 but when I was shopping around in June 2021, the average price was around $70-$80. It probably jumped up since so many people started getting pets during the pandemic.
A lot of people on Facebook recommended Woolies, but I went with Knose because I wanted 0 excess fees, and I wanted to adjust my benefit amount to 90%. But most importantly, no excess! Pet Insurance Australia also offers 0 excess and 90% benefit but the cost differences aren't huge so I went with the insurer with better reviews.
Some breeds will have a more expensive insurance than others. The age will also affect insurance price, but this will matter more if you are adopting an older dog. Just shop around and compare the quotes.
That said, because insurance will NOT cover my vet visits, it still sucks to pay out of pocket for costs I expected to make with a puppy: vaccinations, desexing, and general check-ups for anything that I might be unsure of.
This is how I learned about vet subscriptions.
Vet subscriptions are cheaper than insurance, but it's more like preventive care. You'll get discounts from check-ups and medicines but I can imagine surgeries and illnesses will still be costly without insurance. I was choosing between Healthy Pets Plus (Greencross Vets) or Best for Pet, and decided based on the nearest vet from home — so Healthy Pets Plus it is. I also liked that I can book appointments with Greencross Vets online. Make sure to ask for a puppy pack on your first vet visit!
As an example, Nami had an ear infection recently, and this was the cost of our visit:
Vet consultation = $83
Medication = $88.10
Lab (Cytology) = $32.90
That would have cost me $203 just to get his ear checked + medications. My Healthy Pets Plus membership gave me a $95.10 discount, close to half the total cost.
Not to mention the discount I get from the monthly deworming/flea tablets. Depending on the age of your dog, you might want to choose one over the other, but as new puppy-parents, it gave me peace of mind to just pay for both insurance and a vet subscription for the first year and then evaluate our needs before we renew them.
I highly recommend getting the vet subscription, especially if you opt to not get pet insurance.
Other Costs ($300+)
Council Registration: in Victoria, you are required to register a dog older than 3 months. You will probably pay the full cost if you are registering your dog before it is desexed.
Dog Training / Puppy school: incredibly important if you want to bring your dog to socialise, go to cafes and dog parks. I swear, I feel people will judge me if I have an untrained pup (and I don't blame them…). Puppy school can cost anywhere between $180-$400. Some programs will give you a council registration discount upon completion, so you can ask the dog training schools about that.
Pet Clippers: Because the breeder recommended we shave Nami's ears (as a Yorkie), I bought these clippers from Amazon. It's nice to be able to trim the fur around his toe beans and his butt, too. I plan on practicing on trimming him more so we can save some money on grooming in the future. I already cut my partner's hair (thanks Covid…) so why not add puppy grooming to my skillset? 😛
Security Camera: I bought this TP-Link C200 Security Camera for only $53. It works great in the dark, too. Has features like voice/mic so you can make sounds for your dog. We use it to check on Nami when we're out, or to check if he's asleep (and we're in the bedroom). Highly recommend.
The first month
I would've already spent around $650 on the first month, on top of the cost of getting Nami. I haven't even covered pet accessories like leashes, collars and harnesses, clothes, bandanas, and bows (I'll do that on a separate post). I love Nami and treat him like our baby that we love to spoil so it's sooo easy to get away with spending. The reality is that I can spend about $250/month on Nami on average, and even more if I don't prevent myself from overspending. 😛
Regular expenses
Food: Vets will typically recommend premium puppy/dog food, which would be about $30/2kg on minimum. But you can go super premium, and alongside treats can cost about $80-$150/month, more or less, depending on how much your pup eats.
Nami is super picky, and he would just not get excited over the early kibbles we bought him. For a while he was on Hill's Science for small-breed puppies, and eventually we switched to Ziwi as it was the only kibble brand (so far) that he really likes.
My partner and I come from Asian countries where our dogs eat what we eat at the dining table. No fancy $100-kibbles for our dogs back home, and my parents would've probably fed Nami our leftover dinner, but they still live a good, long life. We're more conscious of what we feed Nami, although from our experience, there's really a wide range of food options for dogs, unless they have allergies or specific dietary requirements.
Grooming: Some dogs need grooming more often than others, but for Nami's breed I think either once a month or once every 2 months is recommended. A groomer in Melbourne costs about $80+ per session. You can easily buy a clipper to trim your own pup, if you're comfortable with this, to do some regular grooming and save on costs 🙂
It is good to make puppies get used to the sound of the clipper and hair dryer, to having their toes and ears touched and poked, while they are very young. It took us a bit of time to make Nami get used to some cleaning/grooming rituals, and we're still a work in progress. I find that cutting his hair/fur around the face/body is more difficult than clipping the fur between his toes. D: Baby steps!
Different strokes for different folks
There's really no right or wrong when it comes to your budget for your pup. I try to find a spending habit that fits my lifestyle, although admittedly with COVID and lockdowns and no travel, it's much easier to allow myself to spend on a LOT of extras on Nami.
There's a lot of people who spend less than I do, and there's also a lot of pet-parents who spend way more on luxury items for their pets (the pet industry in the USA has already hit $100+ billion). The pet food industry alone is worth $2.8 billion in Australia — it is such a lucrative space and if I'm to judge by the pet-parents (like me) on Instagram, we really love showering our pets with as much as our money can buy. :')